Montreux Jazz Festival's free programme features more than 450 activities on 11 stages. From 1 to 16 July, you will finally rediscover the legendary atmosphere of the Montreux waterfront, with its terraces, stands and bars by the lake. A major new feature of this year's event is the Lake House, which invites you to take a unique journey into the world of the Montreux Jazz Festival through eight themed rooms.
WITH:
Alfa Mist · Biga*Ranx · Breakbot & Irfane · Carl Craig · CMAT · ​​​​​​​Danilo Plessow · ​​​​​​​Denis Sulta · ​​​​​​​DJ Bone b2b Goldie · ​​​​​​​Don Letts · Donkey Kid · ​​​​​​​Emma Peters · ​​​​​​​Emma-Jean Thackray · ​​​​​​​Erika de Casier · ​​​​​​​Eris Drew · ​​​​​​​Evita Koné · ​​​​​​​Fishbach · ​​​​​​​Hunee · Ichon · ​​​​​​​Joe Armon-Jones · ​​​​​​​Joya Marleen · ​​​​​​​Kiddy Smile · ​​​​​​​Mara · ​​​​​​​Mychelle · ​​​​​​​ Nastia · ​​​​​​​Peach Tree Rascals · ​​​​​​​Regard · ​​​​​​​Requin Chargin · ​​​​​​​RIOPY · Roosevelt Collier · ​​​​​​​Tsew The Kid · ​​​​​​​Sam Ryder · ​​​​​​​Sega Bodega · ​​​​​​​ Sherelle · ​​​​​​​Steam Down · ​​​​​​​Synapson · ​​​​​​​Theon Cross · ​​​​​​​Tigran Hamasyan · ​​​​​​​TSHA · ​​​​​​​YEИDRY · Zac Harmon
… and more than 400 others!
THE FREE PROGRAMME IS…
Over 450 concerts, DJ sets and workshops
11 free stages
2000 m2 of terraces
3 pool parties
2 silent discos
55 food stands and bars
LAKE HOUSE: EIGHT ROOMS, EIGHT ATMOSPHERES
The main residence of the 56th edition, the Lake House will host many musical, cultural and festive experiences over three floors. Open from 5pm to 5am, this large house will invite you to wander freely through eight themed rooms, each more captivating than the last.
THE MEMPHIS supported by Julius Baer: Jazz club with concerts by emerging artists, workshops and jam sessions
LA COUPOLE: Dance bar and DJ sets with funk, disco and house music
LE CINEMA: Screenings of MJF concerts, documentaries and films
LA BIBLIOTHÈQUE: Literary and musical meetings, book and Live at Montreux records collections
LA LOGGIA: Podcast recordings with special guests
LE BOUDOIR: Retro games room with a pool table, pinball machines and jukebox
LA GALLERIE: Immersive exhibition in the world of NFTs
LE PATIO AUDEMARS PIGUET: Relaxation area and interactive experience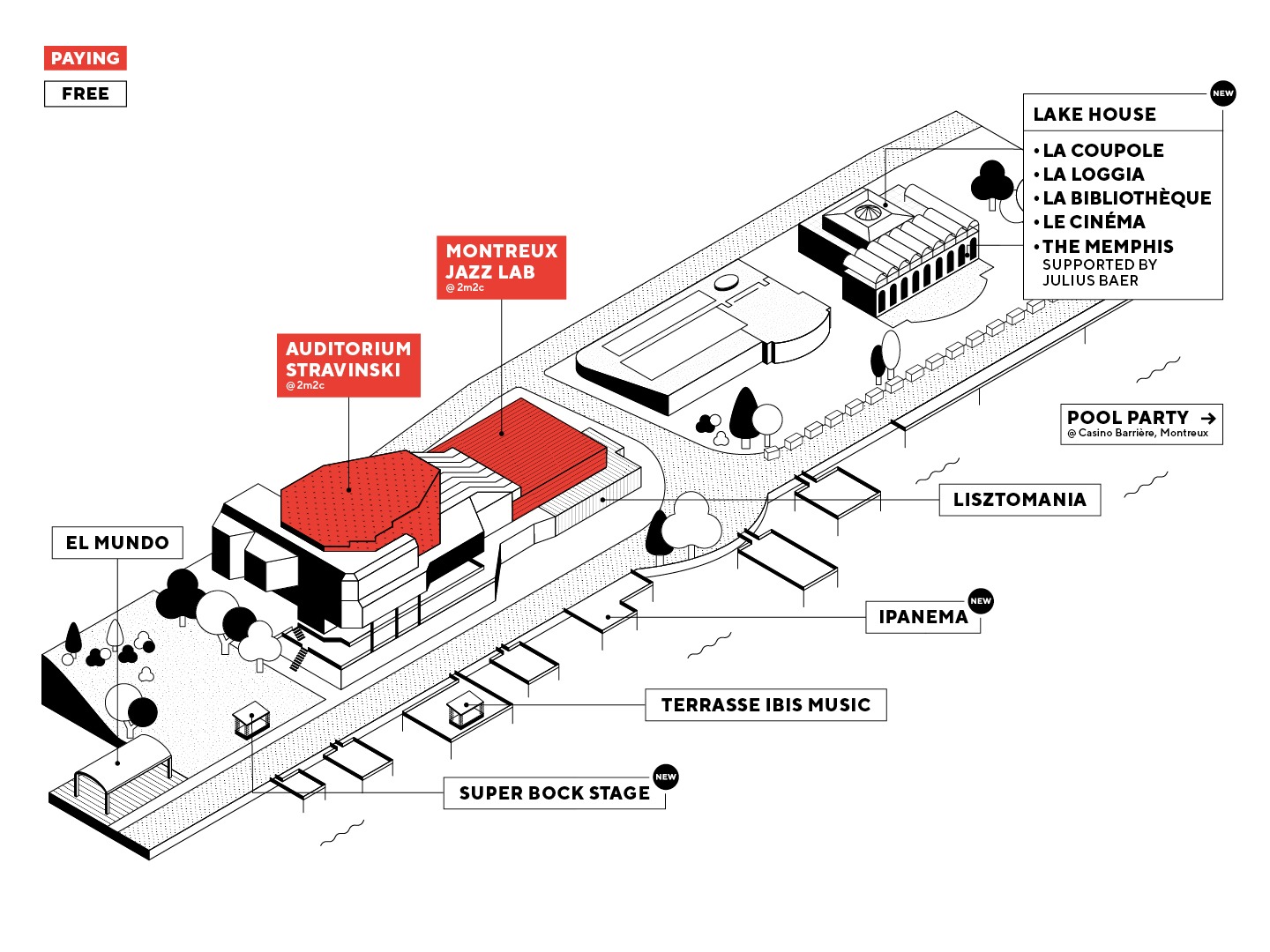 THE OTHER STAGES
SUPER BOCK STAGE
The Parc Vernex will be transformed into a beer garden. In this festive place, open to all, the public will be able to enjoy relaxation and games, including a petanque court. The Super Bock Stage will host two concerts per evening.
IPANEMA
A nightclub above the lake, the Ipanema will see Swiss and international DJs make quite a splash. The place to be to party at sunset or under the stars.
LISZTOMANIA
Created in 2017, Lisztomania is continuing its exploration of emerging trends in all kinds of styles. The 500-seat indoor hall will host concerts every night, except on Mondays.
TERRASSE IBIS MUSIC
The atmosphere of the Terrasse ibis MUSIC will evolve throughout the day: a bar and a laidback vibe in the afternoon, followed by intimate electro-pop performances in the evening and DJ sets at night. Thursdays will be dedicated to silent discos.
EL MUNDO & POOL PARTY
Latin rhythms and sounds are celebrated every day at El Mundo, from dance classes in the afternoon to lively DJ sets in the evening. The Pool Parties are back every Saturday at the historical Casino pool, animated by sundrenched DJ sets.
PARALLEL by Audemars Piguet
Finally, Audemars Piguet is taking a select few to an exceptional, currently undisclosed location to see performances by Arlo Parks and The Blaze.